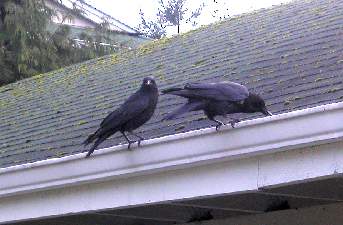 Over the last several months, I have been woken up in the wee hours of the morning by crows running around on my roof and pecking at it. At first, as we were trying to figure out what the noise was it wasn't too annoying. But once we figured it out and it continued morning after morning, it became VERY annoying.
I am not usually a violent or vengeful guy but in a moment of desperation last night, after having been woken up early in the morning by the crows once again, I cried out to God "Please smite the crows!!!!!"
Guess what? I wasn't woken up by the crows this morning. When I opened my curtains I was fully expecting to see dead crows lying around my house. I could already see the headline in the local paper "Dead crows found around Pastor's house." I imagined Moulder and Scully from the X-Files being sent up to my small town to investigate this anomaly.
Much to my surprise and to my disappointment (because I really did want Moulder and Scully to come) there were no dead crows lying around my house but I am thankful that I got to sleep without any interruption. So the questions on my mind now are: "Where did they go? Did God smite them in a different location? Was it a miracle or was it just a coincidence?"